The Next IoT Trend- Software Platform Services
2017/4/4
Eric Liu, Taipei; Adam Hwang, DIGITIMES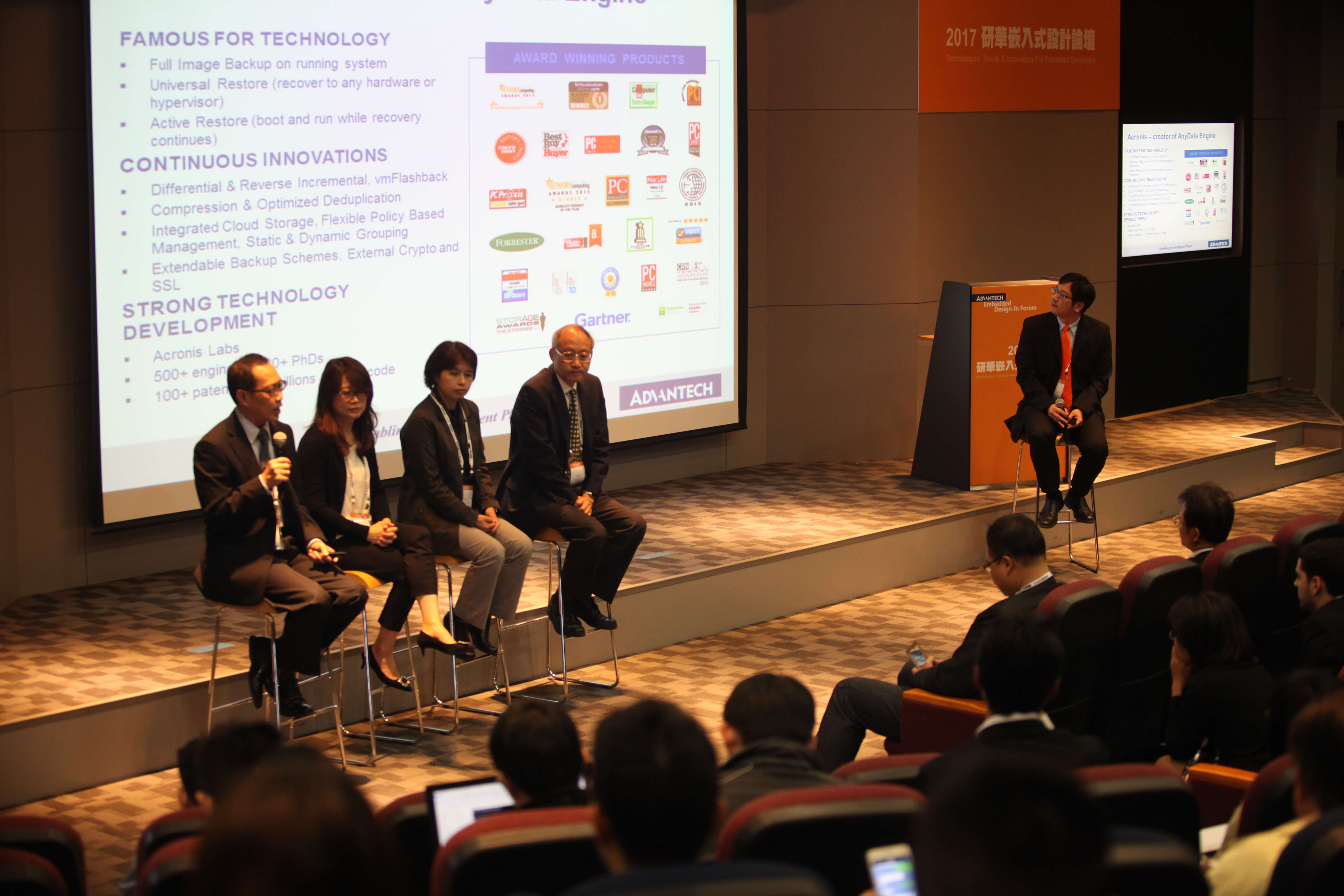 Advantech WISE-PaaS Marketplace collaborates with ARM, Microsoft, McAfee and Acronis enable customers deploy IoT applications easily and quickly within a collaborative software ecosystem. From right to left- Dr. Peter Hsieh, Taiwan GM from ARM; Cathy Yeh, VP from Microsoft; Rebecca Yang, Sales Director from McAfee and Kevin Chien, Country Manager from Acronis.
Global intelligent systems leader Advantech has established WISE-PaaS Marketplace, an open software platform for providing on-demand IoT software solutions, according to the company.

WISE-PaaS Marketplace allows customers to flexibly create environments on demand with standardized data formats based on the MQTT (message queuing telemetry transport) protocol and RESTful API that can be utilized by a variety of terminal devices.

Modules available on the WISE-PaaS Marketplace are like interlocking bricks and can be flexibly combined because all modules are mutually compatible in terms of API and data structures. Users can make unique combinations of application modules based on their particular needs, and even produce SRPs (solution ready packages) catering to specific tasks, which can be downloaded by other marketplace users.

There were two purposes for setting up WISE-PaaS Marketplace: one was to hasten the adoption of cloud-based software for use in remote production equipment management, and the other was to create a software platform that could meet diverse needs.

Currently, the software available on WISE-PaaS Marketplace consists of in-house-developed applications, software for which Advantech is a sales agent, as well as solutions developed by ecosystem partners. In the future, WISE-PaaS Marketplace will be opened to independent third-party developers in order to generate even more business opportunities.

A large portion of Advantech's clients are providers of system integration services; WISE-PaaS Marketplace enables them to create thematic SRPs and launch them to meet specific customer needs.

In a bid to promote WISE-PaaS Marketplace, Advantech is working with its ecosystem partners to form the WISE-PaaS Alliance and to provide consulting services for potential customers.