AGVs with Fast Roaming Accelerate and Optimize the Automobile Assembly Line
2023/4/21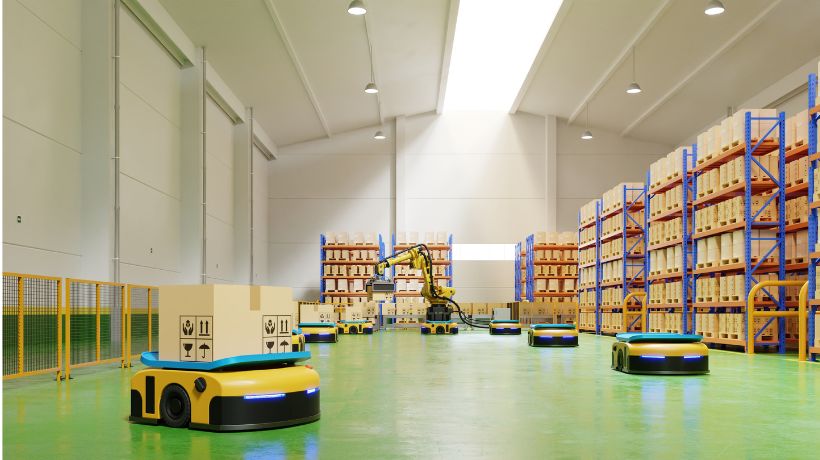 Automobile assembly process planning is developing in the direction of automation, modularization, platformization, standardization, and intelligence. Although most control systems employ PLC equipment and adopt a modular systems architecture, to meet the demands of automobile assembly operations, numerous large-scale logistics deployments and management systems must be in place. For assembly operations with long logistics lines and frequent material transfers, deploying automated-guided vehicles (AGVs) can improve process workflows.
A renowned EV manufacturer established a factory in China that integrates design, R&D, and manufacturing processes. However, the most important process in automobile production is without a doubt product assembly. Automobiles are assembled on an assembly line that uses AGV trolleys for material transfer operations. The AGV trolleys are controlled using wireless networking and all vehicle components are transported by AGV to the next installation area in the assembly workflow.

Production lines are networked to the management system and equipment data is leveraged for production management. The AGV transportation system provides an efficient alternative to manual handling that reduces demands on material distribution personnel, saving manpower resources and cost. By offering easy process automation, AGVs can even replace trucks, forklifts, and other operating vehicles for intelligent operations.
However, to ensure mobile connectivity, AGV trolleys must be equipped with a high-speed Wi-Fi roaming client. In automobile assembly plants, AGVs are typically the final field deployment for linkage commissioning. Thus, the installation site will already have Wi-Fi AP coverage, where multiple hardware brands with different connectivity protocols and configurations are combined for each deployment.

Therefore, to ensure reliable connectivity for real-time data communication, the establishment of a robust dual-band Wi-Fi network with fast roaming and signal switching capabilities is crucial. Because the ability to maintain effective control capacities determines the practicality of the AGV system, the Wi-Fi client installed on the AGV trolleys must be able to communicate with multiple AP technologies for reliable exchange of AGV control data. Furthermore, as AGV batteries are used to supply power to multiple systems, such Wi-Fi client devices must support a wide input voltage range.

EKI-1361: 1-port RS-232/422/485 to 802.11 a/b/g/n WLAN Serial Device Server
EKI-6333AC-2G: IEEE 802.11 a/b/g/n/ac Concurrent Dual-Band Wi-Fi AP/Client

For this project, Advantech's EKI-1361 series of fast-roaming wireless clients provided essential technology for communication between AGVs and the central control system. Compliant with IEEE802.11 a/b/g/n standard, these devices support dual-band 2.4G/5G Wi-Fi communication and can switch between frequency bands according to the strength of wireless signals and on-site interference. EKI-1361 is also equipped with RS-232/422/485 and Ethernet (RJ45) communication interfaces for convenient connection with PLC controllers onboard AGVs. The compact design makes these wireless client devices ideal for AGVs with limited installation space.
On the assembly floor, multiple EKI-6333AC wireless APs are installed along the lengthy logistics route and monitored from the central control room. Each AP provides a network coverage radius of tens of meters. This means that during transmission operations AGVs must pass through multiple AP coverage areas. Fortunately, EKI-1361 clients can be configured to search for nearby wireless signals according to signal strength and automatically switch without AP restriction when the signal strength is lower than a certain value. Moreover, because EKI-1361 clients support a wide input voltage range of 12 ~ 48 VDC, they can support multiple voltages for greater flexibility to ensure smooth AGV operations.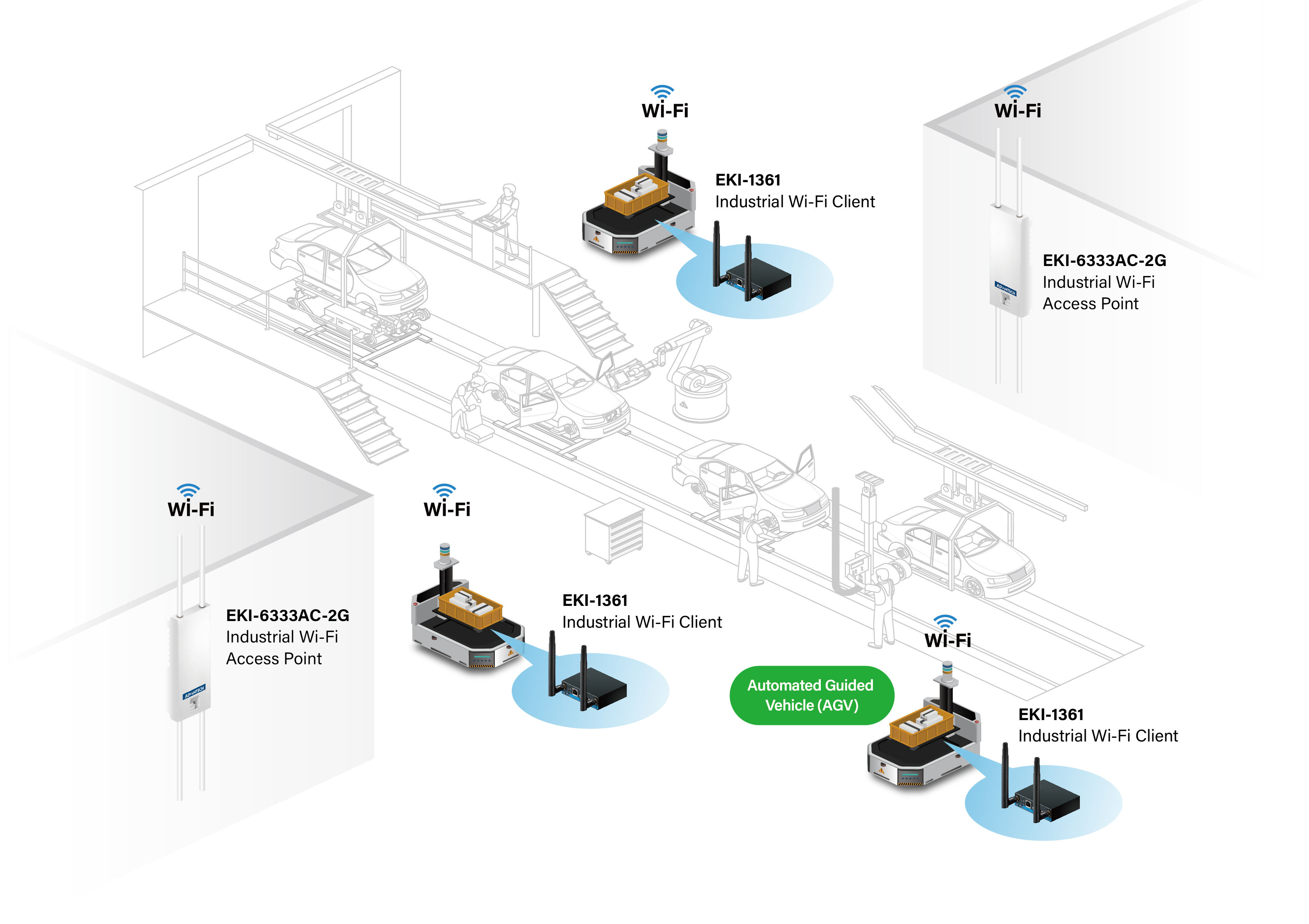 Advantech's EKI-1361 Wi-Fi clients provided 100ms fast-roaming speeds and compatibility with multiple APs for fast signal switching to ensure smooth transmission of AGV control data. Combined with the EKI-6333AC series Wi-Fi APs, this enabled the manufacturer to establish comprehensive signal coverage throughout the application site and deploy a variety of wireless communication solutions to AGV trolleys.
With their compact design, EKI-1361 Wi-Fi clients save installation space, making them ideal for deployment in AGV trolleys. The EKI-1361 devices were also configured for automatic signal switching to ensure reliable real-time communication between AGV equipment and control systems. Moreover, the added provision of serial and Ethernet interfaces allowed for flexible integration with diverse AGV management infrastructure.

Previously, wireless networks were simply designed to provide coverage for the desired area. But modern data communication demands mean networks must be designed for capacity, not just coverage. By utilizing both the 2.4 and 5 GHz bands, the automobile manufacturer was able to double the available wireless bandwidth and avoid common AGV operation errors.

Overall, the AGV system greatly reduced operational disruptions and safety hazards associated with the movement of personnel and transport of materials. By minimizing manual material handling, the AGV system frees operators to focus on hands-on tasks, streamlining workflow and improving resource availability.

Supports 802.11r Wi-Fi and 100ms fast roaming signal switching without AP constraint
Enables serial, Ethernet, and Wi-Fi communication
Industrial-grade design offers a wide operating temperature (-40 ~ 75 °C/-40 ~ 167 °F)
Wide 12 ~ 48 VDC power input range with redundancy ensures reliable operation
One-stop solution facilitates convenient maintenance and upgrades