OEE Solution Allows Italian Wine Factory to Reduce Equipment Downtime and Achieve Paperless Management
2020/6/21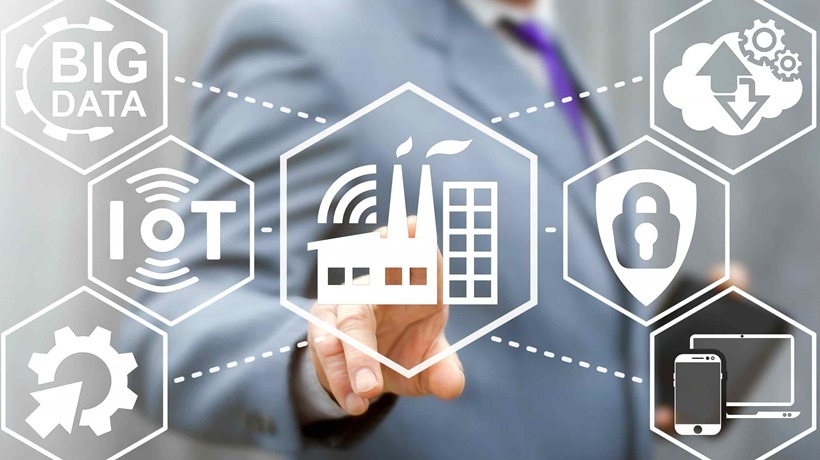 Overall Equipment Effectiveness (OEE) is a Key Performance Indicator (KPI) for measuring factory production efficiency. In the past, manufacturers often collected OEE-related data such as equipment availability, production performance, and product quality through hand written paper forms. This approach is prone to human errors and mistakes, making production performance results difficult to accurately interpret. However, building an OEE system is not straightforward. Often, there are a variety of machines and devices already configured in the factory for production and quality inspection and any new solution must be able to work with these legacy systems.
Advantech's OEE solution incorporates automatic data acquisition, real-time monitoring, and cross-system integration features. It is an open and flexible platform with support from hundreds of drivers and standardized protocols. This means collection of diverse data and integration with all types of equipment will be much simpler. System Integrators and end users can both benefit from this to quickly build a complete OEE system suitable for their own purposes.
Italy is one of the oldest wine-producing regions in the world. It has been producing wine for nearly two thousand years. Due to the fierce market competition at home and abroad, the winery must keep pace with the times and use new technology to manage the factory and improve production efficiency. A wine factory with more than 100 years of history, specializing in the production of high volume Spumante, planned to introduce an OEE system for its bottling and packaging production lines. The vintner hoped that the new system could not only monitor OEE and energy consumption in real time, but also integrate two automated production lines with their various IT systems for a paperless operation.
The contractor for this project is Net Surfing, an Italian System Integrator with rich experience in OEE system implementation. After listening to the requirements of the wine factory, Net Surfing decided they needed to capture data from programmable logic controllers (PLC) controlling each bottling stage, have video cameras for inspecting bottle packaging, sensors for detecting pressure and temperature, and electric meters to record energy consumption. The data was also needed by other systems for quality inspection, CMMS for maintaining equipment assets, an ERP system for managing orders, and a remote monitoring center to display real-time data and reports.
The OEE solution provided by Advantech was a combination of remote monitoring software WebAccess/SCADA and intelligent gateways. ECU-1051TL met their needs for monitoring energy consumption of the whole operation processes (from empty bottle filling to adding cork stoppers, labeling, packing and shipping). Data from sensors and electric meters are collected through ECU-1051TL cloud enabled intelligent communication gateway. Devices were directly connected to ECU-1051TL through WebAccess/SCADA without configuring additional devices or programming drivers including the PLCs, cameras, touch panels at the operating stations, quality inspectors' tablets, CMMS, ERP system, and the remote monitoring center.
Feature rich and powerful, Advantech's WebAccess/SCADA software package for supervisory control, data acquisition, and visualization is at the core of the entire solution. In terms of integration, it supports 200 drivers, 450 controllers, and various standard protocols (including Modbus, OPC UA, OPC DA, Ethernet/IP, DNP3, SNMP and BACnet), enabling this OEE system project to effortlessly collect a multitude of diverse data. The open web interface services (e.g. RESTful API and SignalR) allow system developers to integrate with various third-party software systems according to project needs.
A HTML5-based dashboard provides many practical widgets. Developers can use them to design an intuitive user interface, making visualized data easier to understand at a glance. The cross-platform and cross-browser features allow users to log in to the system from anywhere on iOS, Android, or Windows platforms. Additionally, WebAccess/SCADA provides alarms and warning functions.
WebAccess/SCADA: Browser-based HMI/SCADA software
ECU-1051TL: Industrial communication gateway for IIoT application, embedded with intelligent protocol conversion software WISE-EdgeLink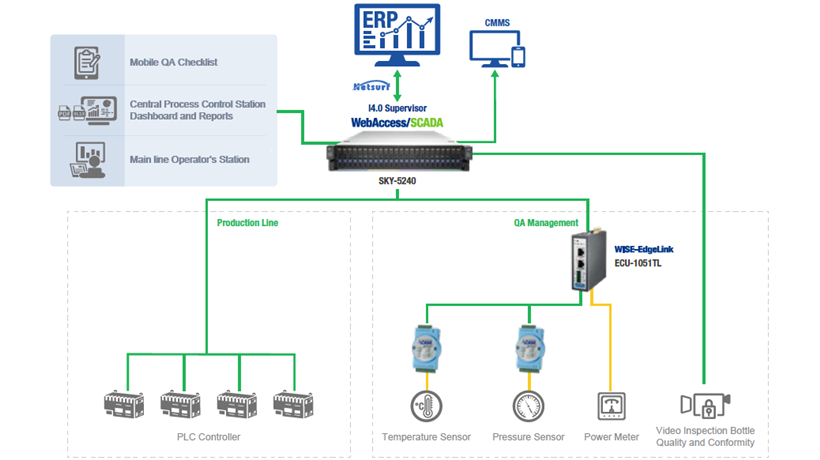 OEE is a powerful tool for managing factories. The introduction of an OEE system that can be monitored in real time helps managers efficiently optimize resource allocation, thereby improving equipment and production efficiency. From the get go, this vineyard wanted to upgrade to a completely paperless operation. Post transformation, their equipment downtime on production lines has been reduced by between 5%~10%.
It is a challenge for any system integrator to build an OEE system for factories containing a wide variety of equipment and a large number of IT systems. These projects need to use an open environment to simplify system architecture and design. Advantech's highly integrated ECU-1051TL cloud enabled intelligent communication gateway with WebAccess/SCADA made it easy for Net Surfing to build an OEE solution that could fully meet the needs its customer. The solution also laid the foundation for unlimited future possibilities for adding new functions or expanding production in the future.
Free download for Advantech WebAccess /SCADA 9.0 version and Free75 tags License with all functions.