Climate Challenges in the Tropics: Advantech Helps Myanmar Hotel Build the Central Monitoring System
2020/6/21
Difficulties in managing a large hotel: time-consuming maintenance, strenuous management
The 7 Mile Residence complex is a luxury tourist hotel located in Yangon, Myanmar. The hotel has several guest rooms, a restaurant, landscaped gardens, a swimming pool and other facilities. With many intelligent building systems, such as air conditioning, elevators, and lighting, 7 Mile has created a comfortable environment for guests with multiple leisure facilities. Yangon is situated in a tropical zone with high temperatures and frequent rainfall. The dynamic weather presents a challenge for the hotel, so the owners hoped to deploy some of Advantech's automation and IoT solutions to create an efficient central monitoring system for the hotel to provide comfortable relaxing spaces for customers no matter what time of year or weather.
Covering a large area with many facilities, the 7 Mile Residence complex faced two main problems. There are several building systems at 7 Mile including water towers, fire alarms, elevators, pumps, and light controller systems. These systems are located in separate places around the hotel. When maintenance staff need to check things, they can waste a lot of time just heading to and from different locations across the large complex. This wastes a lot of time and also leads to delays in detecting problems and most importantly, emergencies which might not get dealt with properly. For instance, before the 7 Mile complex installed a central monitoring system, the water towers on the top floor sometimes overflowed due to broken pipes and joints causing serious water leakages. Without any sensor triggers, the water just flowed into electrical wells causing short circuits and this resulted in serious financial losses for the hotel. Additionally, if a manager needed to understand system status in order to evaluate hotel efficiency, they couldn't because they lacked information. Not being able to supervise and control their own expensive facilities was a serious blind spot for the management.
To rectify the situation, 7 Mile contacted DigiNET, a famous Myanmar technology company, which focuses on turkey solutions and has experience in industrial automation and the hotel business. After evaluating demands and the current situation at the hotel, DigiNET decided to integrate Advantech's solutions incorporating ADAM-6200 series I/O modules, AIMB-281 motherboards, and WebAccess / SCADA remote monitoring software to assist the 7 Mile Residence complex in creating their central monitoring and control system.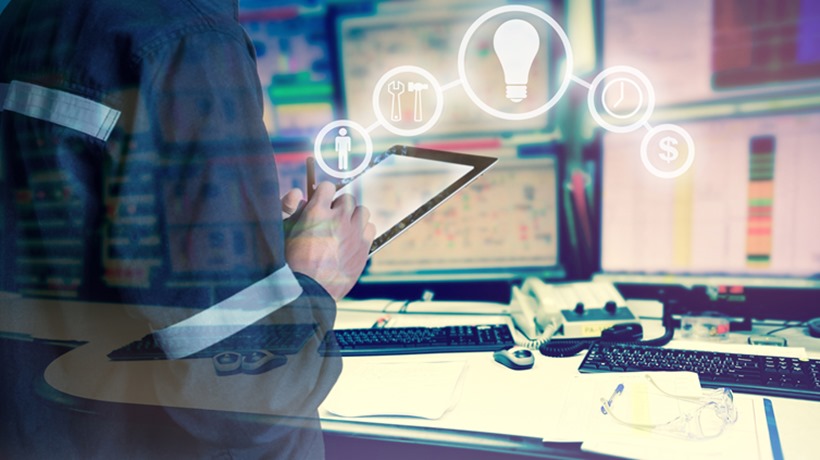 ADAM-6200 I/O modules: wide temperature, multi-protocol support, and auto-bypass daisy chain design
The 7 Mile system deployed ADAM-6251 and ADAM-6256 I/O modules for data acquisition. ADAM-6251 and ADAM-6256 have DI/ DO channels that collect signals from water tank level sensors, fire alarm systems, elevators, pump relays, and light controllers. Data is then uploaded to industrial PCs through Ethernet switches for further analysis. There are three main reasons why 7 Mile chose Advantech's ADAM-6200 series: high temperature resistance, multi-protocol support, and a special daisy chain auto-bypass design. The climate in Myanmar is very hot with the average annual temperature in Yangon around 27°C and the summer temperature often exceeding 35°C. The temperature in the engine and plant rooms usually surpasses 40°C. Because of ADAM-6251 and ADAM-6256's -40 ~ 70°C wide temperature operation, 7 Mile selected this equipment as its first choice for data acquisition. Next, due to the various systems in the hotel, each controller used different protocols for communications. ADAM-6200 I/O module series features multi-protocol support such as Modbus/ TCP/IP, HTTP, SNMP, and MQTT. This speeds implementation and gives good anti-interference features, which results in stable and accurate data collection. Finally, ADAM-6251 and ADAM-6256 both deployed an auto-bypass daisy chain design, which enables the I/O module to connect via Ethernet to ensure data transmission integrity. The design significantly economizes on cable installation costs and saves on device costs for extra Ethernet switches.
WebAccess / SCADA:one-click control real-time information
Data collected and uploaded by the ADAM I/O modules can be analyzed with the WebAccess/SCADA software and displayed visually. Advantech's WebAccess/SCADA software is a SCADA browser-based industrial IoT platform. The software enables users to edit and manage multiple SCADA devices on a GUI for different scenarios. Analog and digital signals were acquired from water tank level sensors, fire alarm systems, elevators, pumps, light controllers, and other facilities. The cross-browser and cross-platform intelligent WebAccess/SCADA dashboard can visualize collected data, display real-time information in bar graphs, line graphs, and pie charts. WebAccess/SCADA supports multi-protocol communications and drivers, to which equipment manufactured by many different makers can connect. The real-time alarm feature notifies staff through email, SMS, Line, WeChat, or Advantech's app to allow them to catch the latest facility status simply by checking their mobile phone notifications. Its open interface allows access to all information and gives managers more flexibility in controlling devices and systems.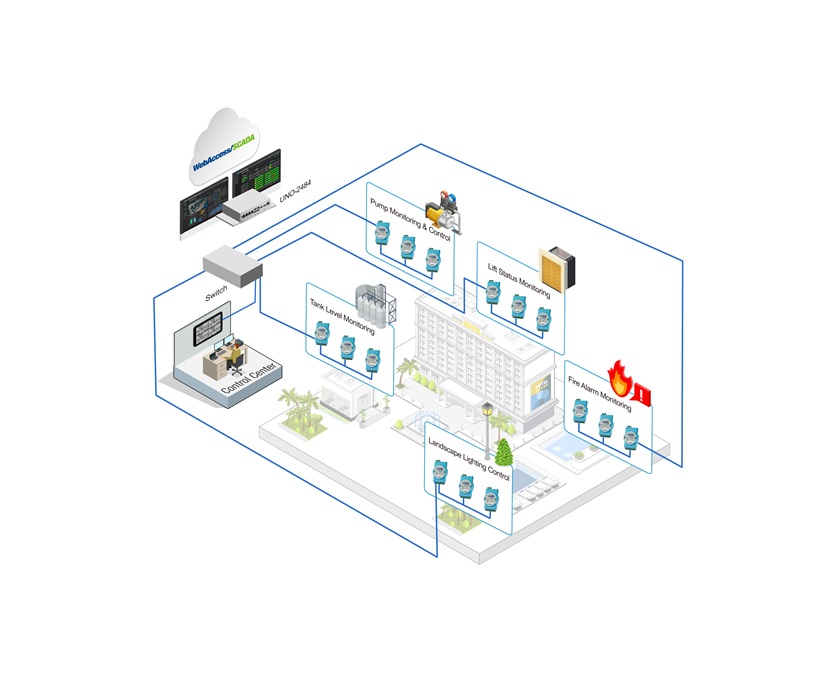 Advantech and DigiNET empower companies upgrading to Industry 4.0
By deploying Advantech's equipment, with integration from DigiNET, the 7 Mile Hotel successfully deployed their central monitoring system for the hotel. The powerful ADAM-6200 series I/O modules were a central feature of the system for acquiring and aggregating all data for managers to analyse. DigiNET also plays a critical role in this project. Already being a hardware supplier to the 7 Mile Hotel, DigiNET exerted its expertise as a system integration company and deep dived the problems and requirements of the hotel.
To advance in Industry 4.0, industrial customers need help and support to make their digital transformation. Advantech devotes itself to assisting all industrial customers by constructing an intelligent network, being an influential industry leader, and continuing to engage with industry and society for the benefit of everyone.
Free download for Advantech WebAccess /SCADA 9.0 version and Free75 tags License with all functions.